Brenter: a cycle trip around Great Britain
Brenter, as opposed to Brexit, is a word of my creation (but not only mine it seems) derived from 'Britain' and 'enter', though here it should have been in reverse order as in: 'entering Britain'.
Speaking foreign languages can be useful in many situations. For example when travelling. Knowing just English can get you along easily in many countries and nowhere more than in Great Britain but it goes without saying. In June 2018 I decided to come back to the UK, this time by bicycle, to cycle around it. Covering about 90 km daily, slowly progressing through different counties of the Kingdom, it's quite interesting meeting people as you pick up differences in their British accent, sometimes slight sometimes very pronounced.
National cycle network in Britain by Sustrans
The length of the planned route was 3350 km or, by British measurement standards, 2080 miles. It took 37 days on the bike and some zero days, that is: days of rest. I mainly followed signed cycle paths called National Cycle Routes marked out by Sustrans. Signing was in general really good so you can easily do the trip without navigation. I had a compass and print-outs of my route. I started from the port city of Harwich, east of London, or in fact from the Hague taking ferry to the UK. From there I headed north on route 1, keeping close to the east coast of England, passing through Essex, Sufflolk, Norfolk, Lincolnshire, Yorkshire, Durham, Tyne & Wear, Northumberland. Then I entered Scotland, and upon reaching Edinburgh I headed still north as far as Inverness. Nearby I had a well-deserved rest. Next I moved south but this time keeping to the west side, first along NCR7 via Glasgow and back to England in the county of Cumbria. I crossed North Pennines nature reserve and Yorkshire Dales National Park, following beautiful Pennine Cycleway (NCR68). Not far from Manchester I crossed a border with Wales where route 8 took me through Snowdonia and Brecon Beacons National Parks and over a huge bridge for the third time to England near Bristol. Then route 4 lead me along picturesque canals all the way to London. It was a great finishing touch of the trip to visit my old friend since the time I lived in this multicultural metropolis. In London my adventure finished.
Blue signing of National Cycle Routes in Great Britain
Roaming through little towns and villages in Wales you can work on your pronunciation
The route was mainly on minor tarmac roads and traffic-free sections, luckily I was rarely on busier roads as it is no fun at all. With usually very good signing to boot I can definitely recommend cycling in Great Britain.
It didn't go without pains and challenges. A day I decided to do 150 km in order to cross the entire long conurbation where Middlesbrough and New Castle are, and I got caught in a strong gale. I was advised to stay in and wait it out but a man can be stubborn and not very smart. It was sometimes quite dangerous, surely very tiresome, going against wind was a hard slog, going with the wind blowing sideways at a slant position to balance it. Carrying heavily loaded bike over the fallen trees was something else. I badly damaged my rack when I was taking my bike over the second tree. The affair looked pretty hopeless. Almost miraculously, in the crazily howling wind, with just a string and duct tape I managed to fix it and moved on and at dusk I reached my planned target outside the urban zone.
During first 1500 km the route often followed the North Sea coast.
From previous travels I remembered Britain to have charming landscapes. This time, when slowly travelling by bike, I had plenty of time to take in all the beauty of picturesque surroundings. In this respect I liked quite much all three: England, Scotland and Wales, the latter in my eyes being the most idyllic. There are though not many forests and some people might not like such desolate scenery.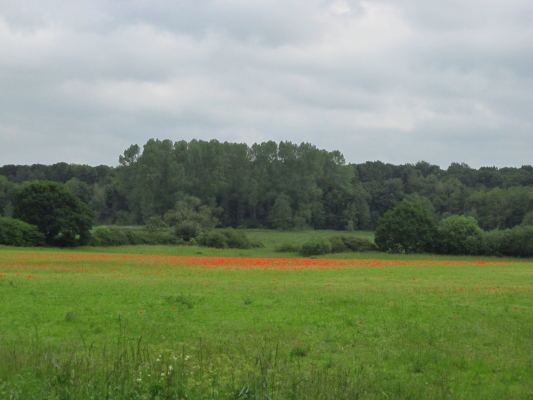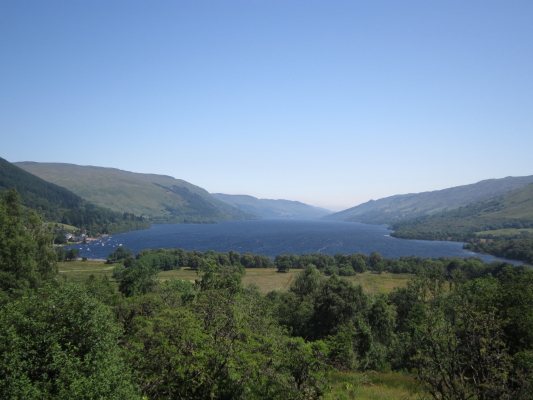 I am a big fan of nature. Big trees and natural landscapes are enough make me speechless with delight, so most of the time I photographed them. But on the way you pass many charming places rich with Britain's history and lively towns and cities.
L: Hadrian's wall, one of Britain's most dramatic Roman ruins. It ran across England from west to east coast, protecting from barbarians from the north. Like in Game of thrones, just a bit lower.
R: Long live the Queen behind this fountain! Windsor, England
The network of canals is populated by a boating community, south England.
Grazing land for pigs with little pigsties. Much better living conditions for those animals than locking them in cramped concrete boxes. Besides there is plenty of sheep in Britain.
I love wild camping. When travelling in various European countries I found places of extraordinary beauty and serenity. Consequently I became very demanding when it comes to choosing accommodation. When I discovered it I couldn't bear any more normal usually noisy and cramped campsites. I wanted only the best comfort, biggest luxury, highest standard: to be surrounded only by beauty, space, green and tranquility. There are different regulations in different countries. In the UK in Scotland it's legal, in England (and Wales) where nearly every inch of land is private it's not. Unless of course you ask a land owner (e.g. a farmer) for a permit and get it. I must say it makes as well your travel much more flexible. I wasn't sure how it would go in England but it went really well. The generous hospitality I experienced was beyond my wildest expectations. Was it my personal charm or was it pity people took when they saw me loaded with gargantuan luggage, this I can't be sure. Anyway getting a permit to pitch a tent at a chosen by me spot turned out to be a piece of cake.
I set off in early June and although it didn't rain much it was quite chilly. A cap was my most faithful companion for the first three weeks. Cold weather was good for cycling and made my breaks very short – it was just too bloody cold not to move! Then a massive heat wave rolled in and it didn't let go till the end.
I didn't have a bike when I lived in London. Now I saw many cycle paths and nearly every street has a separate narrow line for cyclists. Great. Transport in the city isn't cheap and many Londoners cycle to work. I joined their Monday morning pack on my way to the Victoria Coach Terminal.
To summarise, if I could name one positive and one negative thing of the trip.
I met with surprising kindness: when asking for directions, a shop, a good spot for the night, for anything in fact. It was mostly noticeably in the first week of the travel and many times I found myself cheering to myself, touched: "Wow! What a kind nation here!" Later this feeling wore off a little which doesn't make it less true. For example I wasn't sure what kind of reputation Poles have in the UK but I didn't feel any hostility being a foreigner even when I said I was from Poland I did not feel unwlecome.
You can't not notice fences everywhere. It is a fenced country, most of the time barbed wired. I've never seen a country like that. Privatization pushed to its saddest choking absurd. One who lives in a city might not notice it or someone whose life is from a doorstep to a car and then by car to a shop, school, work, restaurant, barber, swimming pool or gold club and back home. Then it's not so apparent – for it doesn't bother – that British people created for themselves a big prison with some paths in it. They call them 'right of way', by the way. Truly you can go anywhere in Britain but almost nowhere wander off a trail. And why would you? – someone might ask. Roads are comfortable, bushes and fields are not. Well, true, there is usually no reason but if you wanted to you cannot. For me this is seriously impinging on basic freedom.
Rare is a view in the UK without a barbed wire: when taking a nice photo you must always point your camera right or edit afterwards